What Students Say
Testimonials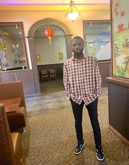 As a young fresh graduate of economics, keenly interested in research and a graduate-level degree in economics, I was unsure which path is optimal and will propel me towards my goal. Baum Tenpers Research Institute (BT) provided me a platform that helped me make the optimal decision. Through BT, I was able to engage with top scholars in the field of economics, a very rare privilege. I received orientation about the various top-level areas in economics and the opportunities within.
Abdulmuttolib Salako
Ex-Student
I'm glad to be part of the success story at Baum Tenpers (BT) Research Group, where I doubled in many capacities. As an RA, I was exposed to the world of research and had the rare privilege to work with senior research fellows, who invested their time and efforts to initiate, discuss and supervise my work, and also supported my graduate school applications in which I got admitted to six PhD programs in the US
Nnamdi Okafor
Ex-Student
Today, I am currently running my PhD program in Economics at the University of Memphis, Tennessee, USA and I must say that all the hands-on experience gained at Baum Tenpers has been a plus in adapting to the foreign educational system. Indeed, I am happy and privileged to be a part of Baum Tenpers.
Favour Olarewaju
Ex-Student